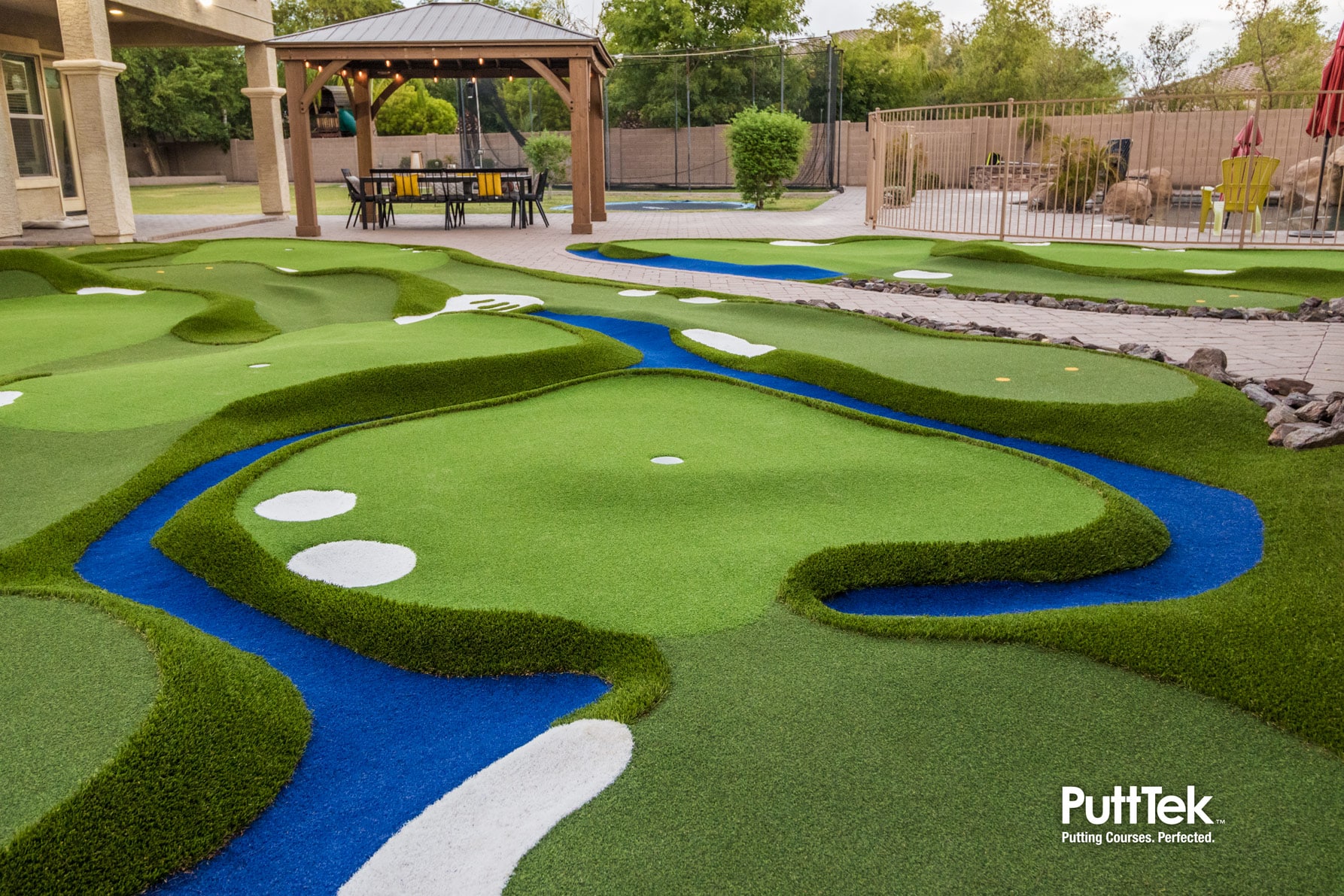 PuttTek was founded in the great state of Arizona. We understand harsh environments, extreme heat and intense storms. We factor in these conditions when selecting our materials, including our top-of-the-line premium turf.
Let's face it… if it can hold up here (and it does) then it can hold up anywhere. Rest assured that you are getting the best quality available and that you will be able to enjoy your PuttTek Putting Course for many, many years to come.
We guarantee it!
Frequently Asked Questions
What is a PuttTek Putting Course and why should I install one?
A PuttTek Putting Course creates an environment that is beautiful to look at, while being functional for all ages and skill levels to enjoy. Our clients love their putting courses because friends, families and other associates are now closer than ever. At PuttTek, we focus on the one aspect of golf that everyone can enjoy… Putting.
What makes a PuttTek Course different from a traditional chipping or putting green?
Unlike a traditional putting green that seldom gets utilized, our putting courses create a game for all ages to enjoy. Plus, do you really trust your guests with a pitching wedge?
What if I still want a place to practice my chipping?
Many of our clients feel the same so, if requested, our custom designs can incorporate a place for you to practice chipping to one (or all) of the greens on your putting course. It is the best of both worlds, a putting environment for your guests to safely enjoy and a place to sharpen your short game once they leave.
How much space do I need to be able to install a PuttTek Course?
A standard three-hole putting course typically requires 700sqft, this means that a nine-hole course will take up approximately 2,100sqft. These are average dimensions and can be adjusted up or down to accommodate your available space and specific design ideas.
Can PuttTek install a course around my pool and other permanent landscaping?
Yes. A PuttTek Putting Course is 100% custom, so we can integrate into your existing landscape and enhance the beauty of your environment while drastically reducing the necessary maintenance.
How long will it take to install my PuttTek Course?
You should plan on one to two days per hole. Therefore, a six-hole putting course will take as short as a week or as long as two weeks depending on the custom features selected.
What kind of maintenance should I expect with my PuttTek course?
One of the key benefits of installing a PuttTek course is that you no longer need to water, mow or edge anything. Blowing off leaves, on occasion, is about the extent of any regular maintenance.
Can I visit an existing PuttTek Putting Course?
Absolutely, call 602.586.1599 to find out when our next Open House is being held. Also, be sure to subscribe to our Newsletter for more upcoming information.
So how much will my PuttTek Putting Course cost?
Answering this question is like answering the question of "How much does a custom swimming pool cost?" You see, our putting courses are designed for you and we can make it into anything you would like (big or small).  Regardless of your choice, we guarantee that you will look at your putting course and say, "Wow!"  Click here to get started today.
"It was definitely a customer friendly experience. PuttTek did their job
from end-to-end with every inch of my putting course.
They made sure I was happy."